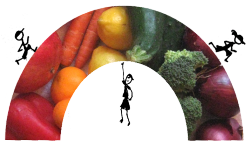 The amazing bright colors you see in fruits and vegetables are the result of plant specific phyto-pigment molecules, called anthocyanins. In nature, there are hundreds of types of these molecules, resulting in the wide range in color of fruits and veggies from vivid red to bright blue. In the last decade a lot of research has suggested anthocyanins' antioxidant properties can lead to anti-inflammatory and anti-carcinogenic activity, cardiovascular disease prevention, obesity control, and diabetes alleviation properties (He and Giusti 2010).
It's now becoming more clear that the health benefits are not necessarily derived from the antioxidant effect of isolated anthocyanins but rather from the ingestion of plant-derived anthocyanin-rich foods. In fact, a diet high in plant based foods appears to be important for obesity control, diabetes control, cardiovascular disease prevention, and improvement of visual and brain functions (for review, see Tsuda 2012). So it's not difficult, just make sure you eat a rainbow every day and stay at your best health!
Coma um arco-íris todos os dias
Moléculas de fito-pigmentos específicas de frutas e vegetais chamados antocianinas são a razão da grande variedade em cor nas frutas e nos vegetais. Na natureza, existem centenas de tipos destas moléculas, o que explica a vasta gama de cores vivas desde o vermelho ao azul brilhante que observamos nas plantas. Na última década, uma série de estudos tem sugerido que as propriedades antioxidantes das antocianinas poderão resultar em atividades biológicas anti-inflamatória e anticancerígenas, prevenção de doenças cardiovasculares, controle de obesidade, diabetes e propriedades de alívio (He e Giusti 2010).
Mais recentemente, há indicações que os benefícios das antocianinas na saúde não são necessariamente derivados dos efeitos antioxidantes destas moléculas isolados, mas sim devido à ingestão anticianinas nos alimentos de origem vegetal. Na verdade, uma dieta rica em alimentos à base de plantas parece ser importante para o controle da obesidade, controle de diabetes, prevenção de doenças cardiovasculares e melhoria das funções visuais e cerebrais (para revisão, ver Tsuda 2012). Parece simples, basta comer um arco-íris todos os dias para estar na sua melhor saúde!
REFS
He J, Giusti MM. 2010. Anthocyanins: natural colorants with health-promoting properties. Annual Review of Food Science and Technology 1:163-87.
Takanori Tsuda 2012. Dietary anthocyanin-rich plants: Biochemical basis and recent progress in health benefits studies. Molecular Nutrition & Food Research 56:159–170
doi: 10.1002/mnfr.201100526.