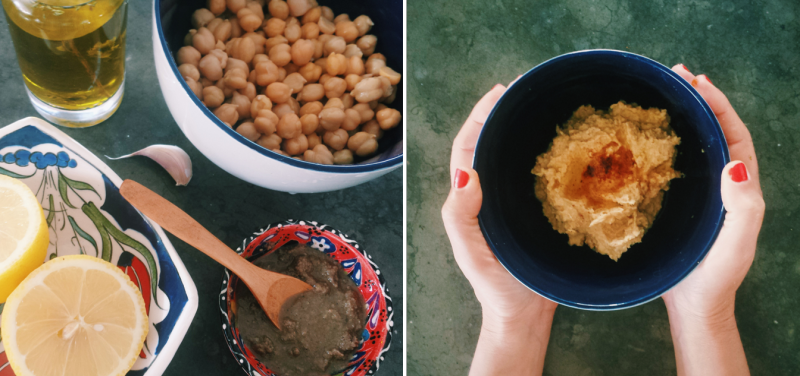 On the 14th of April, a set of conferences on Legumes and sustainable agriculture were hosted by the Colégio F3 (Food, Farming, & Forestry) of the University of Lisbon. The day ended with a feast of fantastic legume based foods. Today I will share a Humus recipe with you that is absolutely wonderful on warm spring days. For the perfect Humus, I highly suggest you make your own Tahine (sesame seed paste), which will last months in the fridge. The recipes below are really easy to make and Humus is absolutely wonderful served with raw vegetables, on salad, on bread, with toasted pitas etc. The possibilities are endless!
TAHINE (sesame seed paste)
Heat sesame seeds to 90 – 100 degrees C for approximately 8 min, let cool and beat in blender at maximum speed until a paste is formed. I like to add a little bit of olive oil and a sprinkle of salt. Be careful not to burn the seeds or it will taste bitter. Keep in a glass jar in the fridge (lasts for months and is great in sauces, salad dressings, etc).
SIMPLE HUMUS
1 small can of chickpeas (if you have the time, use home cooked chickpeas for best results)
1 medium lemon
1 teaspoon of salt
1 garlic clove
1 heaping table spoon of tahine
1. Wash and drain the chickpeas. So that the Humus is nice and creamy, I place the chickpeas in a clean plastic bag and roll them around so their outer skin falls off and attaches to the plastic. (PS. This helps reduce gases)
2. Beat the chickpeas in a blender with the lemon juice, garlic clove and a little water to your desired texture.
3. Add salt, Tahine, and beat once more.
Serve with olive oil and some cayenne pepper. Enjoy!
Aproveite para fazer uma viajem gustativa até ao Médio Oriente com HUMUS

No dia 14 de abril, houve um conjunto de conferências sobre Leguminosas e agricultura sustentável oferecidas pelo Colégio F3 (Food, Farming, & Forestry) da Universidade de Lisboa. O dia terminou com uma festa de alimentos fantásticos feitos à base de leguminosas. Hoje vou partilhar uma receita Humus, que sabe muito bem nestes dias de primavera. Para obter o Humus perfeito, recomendo que faça o seu próprio Tahine (pasta de sementes de sésamo) que dura meses no frigorifico. As receitas abaixo são bastante fáceis de fazer, e Humus é absolutamente maravilhoso servido com vegetais crus, em saladas, no pão, com pão de pita torrado, etc. As possibilidades são infinitas!
TAHINE (pasta de sésamo)
Aquecer sementes de sésamo a 90 – 100 gráus C durante cerca de 8 min, deixar arrefecer e bater na potência máxima até se formar uma pasta. Eu gosto de adicionar um pouco de azeite e uma pitadinha de sal. Cuidado para não queimar as sementes pois fica amargo. Guardar num frasco de vidro no frigorifico (dura meses).
HUMUS ORIGINAL ÁRABE
1 lata pequena de grão-de-bico (se tiver tempo, o sabor de grão cozido em casa é melhor)
1 limão médio
1 colher de chá de sal
1 dente de alho amassado
1 colher de sopa de Tahine
1. Lavar e escorrer o grão. Para ficar mais cremoso, eu ponho o grão num saco de plástico limpo e amasso para soltar as peliculas do grão, que ficam agarradas ao plástico. (PS. Isto ajuda a diminuir os gases)
2. Bater o grão no liquidificador com o sumo de limão, o alho e um pouco de água, para ajustar a textura.
3. Acrescentar sal e Tahine e bater mais um pouco.
Servir com bastante azeite e uma pitada de pimenta picante. Bom proveito!