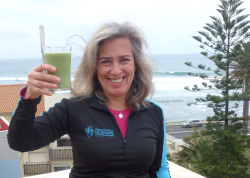 Take a big, long, deep Spring breath in and hold it in for 4 seconds… now breath out slowly until your lungs are completely empty and count 4 seconds before breathing back in and repeating the exercise one more time. Smile to yourself, you have just done a small Spring cleanse.
Intuitively, Spring is a great time to do something that represents a re-start: you can call it a cleanse, a detox, a Spring clean or whatever else. What counts is that you listen to your own intuition and choose one heath promoting behavior change that you will be able to complete successfully for one to two weeks. Here are some suggestions to choose from, which can be done alone, in combination at the same time or in a series:
1- Start the day with a green smoothie_ I personally love this recipe although I add ice in the blender http://thegreenforks.com/super-detox-green-cleansing-smoothie/
By the way, you don't have to use all 16 ingredients every day, make things easy on yourself and enjoy the flavor combinations.
2- Go vegetarian for a week and cook with fresh spring vegetables_ many wonderful plant foods are coming out of the ground all over the world! Find out what is growing and being picked near where you live and incorporate it into fun easy recipes for the next week.
3- Up your vitamin D_ take a 15-30 minute walk every day for a week. Whether you do it first thing in the morning, at lunchtime or sometime in the afternoon, go for a brisk walk in the sunlight every day. Try and go a little bit further every day. Take a camera and enjoy!
These are just some ideas. There are many more things you can do to put some punch into the new season. In general, keeping it simple, fun, and realistic is important and much more likely to succeed. Please feel free to contact me at sofia@besthealth.life for any suggestions or help in your personal Spring cleaning choices. Some people find that keeping a daily log is fun and motivational. See what works for you and most importantly, enjoy the process!
Uma limpeza sustentável de primavera; são as pequenas coisas que fazem a diferença
Inspire fundo lentamente até não conseguir mais e conte 4 segundos com os pulmões cheios… agora espire devagar até esvaziar completamente os pulmões e conte 4 segundos, inspire outra vez e repita o exercício. Pode sorrir, acabou de fazer uma pequena limpeza.
Por alguma razão, para mim a primavera é intuitivamente uma excelente altura para fazer qualquer coisa que marque um recomeço: podemos chamar a isto uma limpeza, uma destoxificação, um "cleanse" ou o qualquer outro nome. O que conta é "ouvir" a nossa intuição e escolher uma mudança no comportamento que vai promover a saúde e que nós vamos conseguir fazer durante uma ou duas semanas. Aqui vão algumas sugestões que pode seguir e escolher uma, ou então fazer mais do que uma em combinação ou em série:
1- Comece o dia com um batido verde_ Eu gosto muito desta receita, especialmente com um bocadinho de gelo http://thegreenforks.com/super-detox-green-cleansing-smoothie/. Também não é necessário utilizar todos os 16 ingredientes todos os dias, facilite, use o que tiver em casa e aprecia os diferentes sabores e combinações de sabores.
2- Uma semana de vegetarianismo e cozinhar com vegetais fresquinhos_ a primavera é uma altura ideal para comer vegetais da temporada, há imensos legumes e frutas frescos! Explore o que está a ser colhido perto de si e incorpore esses vegetais em receitas simples e saborosas durante a próxima semana.
3- Aumente a sua vitamina D_ dê um passeio a pé de 15-30 minutos todos os dias durante uma semana. Seja logo de manhãzinha, à hora do almoço, ou à tarde, faça um passeio revigorante durante o dia e vá aumentando o tempo um pouco cada dia. Leve uma maquina fotográfica consigo e aproveite!
Estas são só algumas ideias, e existem muitas mais que pode fazer para festejar a nova estação. Em geral, escolhas simples, divertidas e realistas são mais sustentáveis e têm mais probabilidade de ser conseguidas. Se quiser, pode contactar-me para o e-mail sofia@besthealth.life para qualquer sugestão ou ajuda na sua escolha. Algumas pessoas gostam de manter um diário da experiencia, pois é divertido e dá motivação. Veja o que funciona para si, e mais importante de tudo, divirta-se e desfrute do processo!