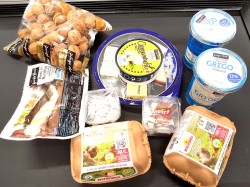 I have just finished 30 days on a ketogenic diet, which means that 75% of the calories I ate daily came from fat. The picture shows what a typical ketogenic grocery shopping cart looks like, where carbohydrates are reduced to 50g per day or less and protein is limited. This was by far the most radical and difficult of the 30day personal food projects that I have taken on, and the one that had the most impact on my physical energy levels and brain function. It was the diet that made me study the most, and I learnt a lot about ketosis and how the body adapts to using fat for energy. Also, it was the first 30 day challenge that I felt that I had something to prove, and therefore got my blood work done to show that eating fat does not raise blood cholesterol or triglyceride levels, as is believed by many people including health specialists. That turned out to be an adventure, but well worth the effort! Considering some unexpected practical bumps in the analyses process, my cholesterol and triglyceride levels were within my normal levels even after a month of eating a lot of fat. In the end, I have come to believe that a few weeks of a ketogenic diet is a very good detox (I call it ketox), where the body is forced to utilize of renew fat stores. Regardless, I am happy to have completed this difficult challenge and to be moving on the challenge number eight, no dairy or gluten. Funny, although each of these was so difficult by itself, I feel this will be a piece of cake after a keto month… and will thoroughly enjoy gluten free whole grains again!
O meu sétimo desafio mensal e o mais difícil: a dieta cetogênica
Há uns dias, acabei de fazer um desafio alimentar de 30 dias numa dieta cetogênica, o que significa que 75% das calorias diárias vinham de gorduras. Como demonstrado na imagem de compras típicas desta dieta, os hidratos de carbono são reduzidos para 50 g por dia ou menos e a proteína também é limitada. Esta foi, de longe, a dieta mais radical e mais dificil que fiz até agora, e também aquela que teve mais impacto nos meus níveis de energia física e mental. Por outro lado, foi o regime que mais me incentivou a estudar e aprendi imenso sobre cenogéneses e como o corpo se adapta para utilizar a gordura como fonte de energia. Também foi o regime alimentar que senti que tinha qualquer coisa a provar, e, portanto, fui fazer analises aos níveis de colesterol e triglicéridos para demonstrar que comer gordura não aumenta estes parâmetros, como muita gente incluindo especialistas de saúde acreditam. Foi uma aventura, mas consegui e valeu a pena! Considerando a situação, o meu nível de colesterol total e triglicéridos estavam na mesma depois de um mês a comer imensa gordura. Na realidade, começo a achar que umas semanas desta dieta é uma excelente forma de fazer um detox (que chamo ketox), pois o corpo é forcado a utilizar e renovar gordura armazenada. Apesar de tudo, estou muito contente de ter acabado este desafio, e de enfrentar o numero oito, nada de glúten ou de lacticínios. Engraçado que estes limites que foram tao difíceis só por si parecem facílimos depois de um mês cetogênico… e vou adorar comer cereais integrais sem glúten outra vez!