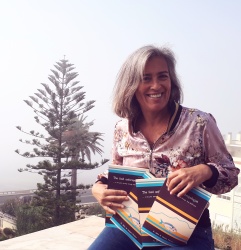 I don't want to give a synopsis of the contents of the book "The food anthropologist" by Sofia de Campos Pereira. I would like to express what the book did to me, what I learned from it, what I took from it and what fascinated me.
In 12 chapters Sofia describes the various diets she followed, each diet for a month. No matter how restrictive the diet, she consistently followed the rules and she describes the negative and positive effects on her on a physical as well as social and emotional level. I was surprised to see how many diets exist (she choses a mostly random order) and understand some of the sense or nonsense of a certain diet and why people follow it.
It is a personal story, warm and sensitive, with a scientific flavor. She describes the science behind the causes as well as backgrounds which makes it for a fascinating read. You get to know her family and friends a bit and that gives a nice atmosphere which is pleasant to read.
What fascinated me most were the last chapters, her 'Afterthoughts'. I've never been very interested in food, recipes, variation, although I try to make sure I eat 'healthy'. I never fully realized the connection between food and all the other aspects of life. Sofia enabled me to see that everything has to do with everything. That there is a connection between all living organisms. It is not only what we eat and knowing what food is good for our health, she also makes the link between the importance of self-discipline and how our focus on goals stops us from enjoying the process. She even addresses how our food actions influence our environment and planet.
It's about small steps that we can take to make progress and that progress is never linear. We would like to see immediate results when we start a diet or choose another type of food or any goal. Sofia showed me that that self-discipline, even when circumstances are not favorable, is not easy but it is needed to take steps towards a (small) goal that we have in mind. I recognize then Sofia who has been my health coach for a long time and from whom I have learned a lot.
I highly recommend this book to anyone, including those who are not interested in food. It is very pleasant to read and very educational!

September 22, 2017, Holland