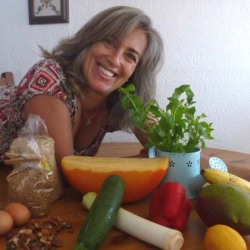 Today is day four of my fourth 30 day food challenge in a row. This means that for the last four months I have been imposing some eating regime and/or limit on myself to see how easy it is to do, how my body reacts, and how I feel overall. So far, I find the first two weeks of each challenge to be mostly about getting used to shopping/cooking/living with the limitation and then the second two weeks to solidify how it really feels to live it. This month, only whole foods. That means no refined sugars, flours, or other chemicals/additives… basically no processed foods. So far, this is by far my favorite challenge as I get to eat whatever food I want as long as it is in its natural form. I have also been enjoying getting really creative with fruit sorbets to satisfy my love for ice cream and sweet tooth (example: blend lemon, raspberry, chia seeds and honey and freeze). I think I am going to love this challenge, and that I am going to love how I feel after one month! Keep in touch for further news and feel free to contact me at sofia@besthealth.life for any support on your own challenges and/or suggestions for future challenges I may try!

Desafios alimentares de 30 dias – Comida não processada

Hoje é o quarto dia do meu quarto desafio alimentar 30 de dias. Isto significa que durante os últimos quatro meses tenho estado a impor algum regime e/ou limite alimentar em mim mesma para ver qual o grau de dificuldade de o fazer, como meu corpo reage, e como é que me sinto em geral. Até agora, as duas primeiras semanas de cada desafio têm sido principalmente para me habituar a comprar/cozinhar/viver com a limitação especifica, e as segundas duas semanas para solidificar como realmente sinto a vivê-la. Este mês, só posso comer alimentos integrais. Isto significa que nada de açúcares refinados, farinhas refinadas, ou outros produtos químicos/aditivos... basicamente, nada de alimentos processados. Até agora, este é de longe o meu desafio favorito porque posso comer qualquer alimento que eu quiser desde que esteja na sua forma natural. Para os meus desejos de doces e de gelado, tenho sido altamente criativa com sorvetes de fruta (exemplo: misturar limão, framboesa, sementes de chia, mel e congelar). Acho que vou adorar este desafio, e que eu vou amar como me sinto depois de um mês! Mando mais noticias em breve e não hesite em contactar-me para o e-mail sofia@besthealth.life para qualquer apoio nos seus próprios desafios e/ou sugestões para futuros desafios que eu possa experimentar!