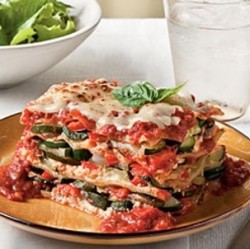 I am now in the third month of experimenting with food, and almost two weeks into being an ova-lacto vegetarian. Since my whole family eats everything, I try to make dinners without meat that please everybody. Here is a great, simple and yummy vegetarian lasagna recipe that everyone loves. Feel free to mix up the veggies (it's great with garlic, leeks, onions, eggplant), it's a no fail winner! Although it takes a while to cook, it's very easy to prepare.

Ingredients:
-lasagna pasta
-2 tomatoes (sliced)
-1 zucchini (sliced)
-½ red pepper (sliced)
-2 cups mushrooms (sliced)
-3 cups spinach leaves
-1 can tomato paste
-1 rice (or soy) cooking cream
-grated cheese (plenty, I use approximately 2 cups)
-salt, pepper, dried oreganos

How to: Nothing easier… layer pasta, tomatoes, spinach, peppers, mushrooms or any other vegetables and top with ½ the can of tomato paste and rice cream. Add grated cheese and spices before repeating the second layer and topping off with plenty of cheese. Ideally, let sit for 1 hour at room temperature or overnight before cooking and bake in a preheated oven at 200°C for 1 hour. Let sit for 10 minutes before serving. This dish is excellent the next day and freezes very well. Enjoy!

Lasanha vegetariana fácil e deliciosa

Neste momento, estou no terceiro mês de experimentação com os alimentos, e quase a meio de um mês como ovo-lacto vegetariana. Uma vez que o resto da minha família come carne, tento fazer jantares que sem carne que todos gostam. Esta receita de lasanha é ótima, simples e saborosa e todos adoram. Pode mudar os legumes para outros que gosta mais (excelente com alho, cebola, alho francês, beringela), fica sempre bem! Embora leve um bocadinho de tempo para cozinhar, é muito fácil de preparar.

Ingredientes:
-massa do Lasanha
-2 tomates (fatiados)
-1 courgette (fatiado)
-½ pimento vermelho (fatiado)
-2 xícaras de cogumelos (fatiados)
-3 xícaras de folhas de espinafre
-1 lata polpa de tomate
-1 creme de cozinha de arroz (ou soja)
-queijo ralado (em abundância, eu uso aproximadamente 2 copos)
-sal, pimenta, orégãos secos

Como: Fácil ... é só fazer camadas de massa, tomate, espinafre, pimento, cogumelos ou quaisquer outros vegetais e cobrir com ½ lata de massa de tomate e creme de arroz. Adicione o queijo ralado e as especiarias e repita a segunda camada bem coberta de queijo. Idealmente, deixe ficar 1 hora à temperatura ambiente ou durante a noite antes de cozinhar e em forno pré-aquecido a 200 °C por 1 hora. Deixe descansar por 10 minutos antes de servir. Este prato é excelente no dia seguinte e congela muito bem. Bom proveito!